The Whistler, The Shadow, Lux Radio Theater, Screen Guild Players, Inner Sanctum Mysteries along with famous stars Judy Garland, Orson Welles, Jeanette Mac Donald, Tallulah Bankhead. That isnít even a drop in the bucket of possible name-dropping, so hope youíll take a look at the lists of programs offered in both the audio format usable on any cd player such as your car, Walkman and home stereo system, or the entire runs of programs which are now on cdís in the mp3 format for the computer or special players including many DVD players.
Audio DVDís are also available, so please, email me at radiorev@aol.com if those are of interest to you. Thanks to a studio of advanced technical equipment, you may now obtain in a flash what took me so many years to accumulate. Sharing is a privilege, so I hope you will browse through the programs listings and hopefully will bookmark the website RADIOREVISITED.COM

Since the 1970ís, my personal collection of radio programs from the golden age of radio (the 1930ís, 40ís and 50ís) has been ever growing.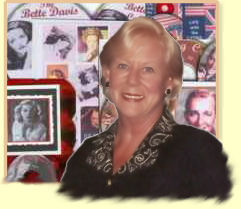 "I love what Iím doing,
and want to share as much as possible."
- Janet
Oh yes, ďAbout JanetĒ...
A little about me personally, my husband Chuck and I met and married during our college days. After the school years, we had major moves every five years for thirty-five years while he was in the corporate world. Our most exciting was a stint in Australia, but we have now returned to our native California where we plan to stay. We both enjoy travel, golf and are avid tennis players
We have five grown children, one son and four daughters, plus eight grandchildren, seven boys and one girl. Of course they are absolutely perfect, just like everyoneís grandchildren seem to be! We are fortunate to spend a lot of quality family time together.
Another enjoyment of mine is to give nostalgic talks about old time radio with entertaining clips of the old broadcasts to various groups and clubs. It begins with ďLetís take a nostalgic look down Memory Lane. . . Ē and goes on from there for about an hour. One of my favorites was at the Blackhawk Smithsonian Museum, a fabulous venue here in California.
The 1970ís in Chicago were my beginning years of collecting vintage radio programs, and many thousands have been accrued since that time.
With the helpful support of my husband, and thanks to you, my friends and fellow comrades in old time radio, RADIO REVISITED has given me the joy of sharing these old broadcasts. From the studio here, they have now gone all over the world to individuals, museums, libraries, universities, schools and even Hollywood studios
Life is good; I hope it is for you, too!
As always, happy listening, and thank you for taking a look!